Season Dates Confirmed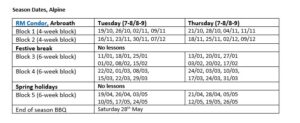 To book into ski lessons you need to have a current season membership please join HERE 
Dates for this season coming are:
• Return first week back post tattie hols.
• 2 x 4 week blocks before xmas hols.
• First night Tuesday 19th and Thursday 21st October
• Last night Tuesday 7th December and Thursday 9th December
• Christmas break week commencing 13th, 20th, 27th, 3rd Jan
• First night Tuesday 11th January and Thursday 14th January
• Breaking for school holidays (Angus) hols week commencing 4th and w/c 11th April
• 3 x 6 week blocks, last night Thursday 26th May
• Annual BBQ Saturday 28th May
Everything is subject to change, we will always keep you informed and lessons cancelled by us will always be refunded.